Sean0

Posts

: 7


Join date

: 2018-02-23


Location

: Essex UK

on Fri Mar 02, 2018 8:35 pm
Hi
Does anyone know what the single code for 8th army figs in 6mm contains or know of any other other manufacturers of 6mm 8tnh Army?

Looking for Vickers Crew 's, 2" & 3" Mortar Crews , AT Gun crews, Command figs etc in desert uniform.

Cheers
Taranis

Posts

: 60


Join date

: 2018-02-12


Location

: Minnesota, USA

on Fri Mar 02, 2018 8:50 pm
Not sure what you mean by "single code" but I just purchased 6mm (1/285th actual scale) desert figures from GHQ Micro Armour line. I bought their command box set for the British and other individual pieces. They have everything you should need to field a 8th Army force.
on Fri Mar 02, 2018 8:55 pm
Heroics and Ros do them, while Adler have some excellent little figures - most of mine are Adler.

Cheers, Andy
Sean0

Posts

: 7


Join date

: 2018-02-23


Location

: Essex UK

on Fri Mar 02, 2018 9:19 pm
Cheers for that.
The H&R description is pretty vague on what is available in desert wear. Reads like its just basic infantry with no support
How do the Adler minis stack up sizewise?

I had a mix of H&R ACW and Adler. The Adler were very noticeably larger, more like 8mm.
on Fri Mar 02, 2018 9:30 pm
The build of the Adler WW2 range is slighter than the ACW range, WW2 figures have to sit up against vehicles . Certainly chunkier than H&R.
Thats a GHQ T34
L
http://home.clara.net/adlermin/
on Fri Mar 02, 2018 10:52 pm
For Heroics and Ros, I think you have to use BR02, the generic British Infantry heavy weapons pack which comes with Vickers teams, 3" & 2" mortars, engineers, ATRs, radio op and officer - sorry can't remember how many of each, around 5 or 6 I think. The Adler range covers the same figure types in separate packs. There is better detail in the Adler figures and they are very clearly wearing shorts. Some say Adler 6mm figures have large heads, but I've never had a problem with them, in fact from the top down view on the table, they look really good. I mix mine with Heroics and Ros, GHQ, CinC and Scotia vehicles with no problems. GHQ do a limited range of figure poses in each set at an eye watering price, unless you live in the USA. Mainforce from Magister Militum do some nice prone infantry stands, but don't think they do specific 8th Army figures.

Sorry, I thought I had some pictures of my Adler desert infantry on my blog, but alas no, I must never have got round to photographing them.

Cheers, Andy
on Sat Mar 03, 2018 5:42 am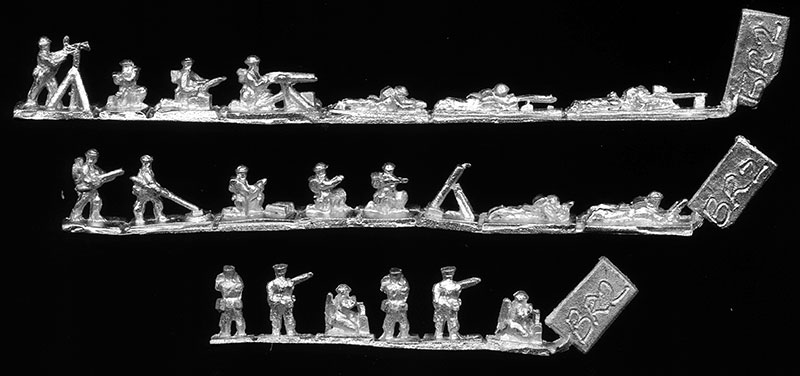 These are the H&R British Support Weapons sprues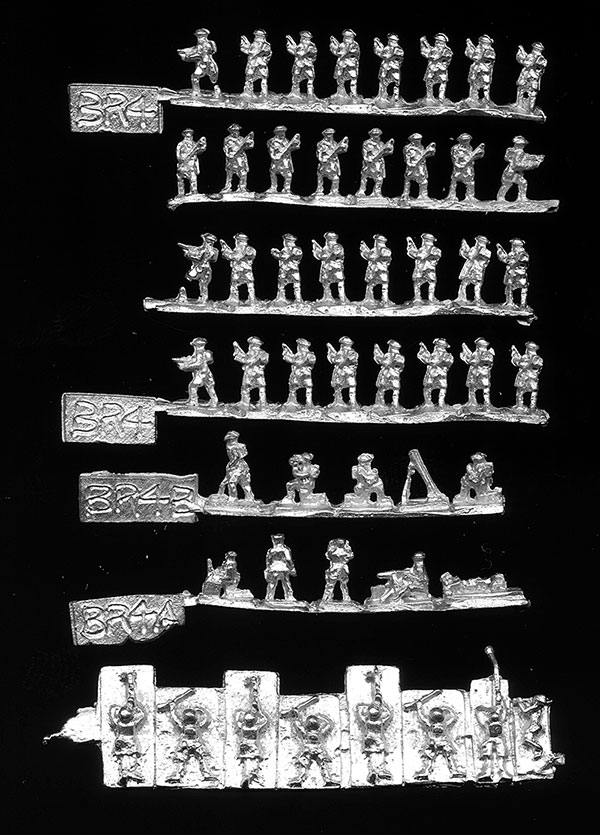 These are the H&R 8th Army in Desert Dress — the sprues include some support weapons as well as basic infantry

Permissions in this forum:
You
cannot
reply to topics in this forum